Chiropractic Care
Many people find relief from pain and other health problems through chiropractic care. Nerves passing through the spinal column control every area of the body. Therefore, any misalignment of the vertebrae can cause many painful conditions, including headaches; back, neck, and shoulder pain; numbness in arms and legs, along with many other health problems. As a leading chiropractor in Dacula, Dr. Russell Glassman and the staff at HMFCC can help you find the relief you seek.
Customized Chiropractic Treatments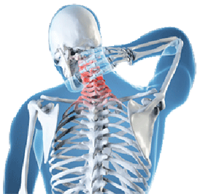 Dr. Glassman dedicates his time to locating nerve interference caused by misaligned vertebrae and "adjusting" the spine to allow the body to function optimally. Our customized approach to chiropractic care relieves neck, back, shoulder, knee, arm and leg pain – with rapid results.
They are also highly trained in orthopedics, nutrition, and functional assessments of the spine and extremities. By utilizing comprehensive physical examination, other diagnostic procedures when needed including X-rays, they are able to treat your condition through a variety of therapeutic techniques.
The synergy among our Dacula chiropractic staff gives you quick pain relief and eliminates the time and hassle of multiple appointments at different doctor's offices.
Schedule Your Appointment
If you need a chiropractor in Dacula, Hamilton Mill, or the surrounding area contact, HMFCC today! We put our hearts into your care and the results show. Our patients enjoy their time with us in our practice and attribute our care as a part of their healing.
If you're in pain, call us now for an immediate appointment at 770-614-6630.